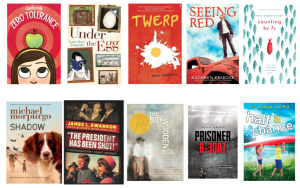 We've been enjoying our "Virginia Readers' Choice" lessons with Fifth- & Sixth-Grade students! Our discussions have ranged among fourteen titles from this year's lists* (see below): from the realism of The President Has Been Shot to the mystery of Under The Egg; from the hope of Counting By Sevens to the honesty to Twerp.
Very many students have read a number of the books; in one recent class, one student affirmed that she has already read all of them! We encourage all students to read at least four of the titles on the list for their grade level. Once they do this, they can vote for their favorite book. In April, the Virginia State Reading Association will tabulate all of votes and choose a winner for the "Middle School" division!
The fourteen titles boast a wide range of topics and plots:
Both The Boy on the Wooden Box & Prisoner B-3087 offer searing glimpses into the tragedy of the Holocaust, and readers emerge from The President Has Been Shot! with a detailed knowledge of the drama surrounding JFK's assassination. Twerp probes how a boy comes to grips with a regrettable episode of bullying, while Zero Tolerance centers on questions of appropriate punishment for mistakes.
Both Shadow & Mountain Dog focus on the importance canine friends play in healing scars from a troubled past, while Elvis and the Underdogs relates the friendship bonding a talking (!) dog with a sickly boy. Seeing Red follows a young man as he responds to past injustices committed by his own family. In Counting By Sevens, readers accompany a young girl who, in seeking to overcome tragedy, embraces the redemptive power of hope. Half A Chance profiles two friends discovering how art can portray truth.
Under the Egg is an engaging mystery, in which a resourceful girl pieces together the truth about her family's past. In A Snicker of Magic, an imaginative girl finds a home in a woebegone town…and seeks to reinstall some magic into it. And the title of Escape from Mr. Lemoncello's Library precisely describes the book's action; for in it, kids need to solve clues in order to exit their town's new library.
*We create a separate list for our 5th grade students, combining titles from the official lists for 3rd-5th grade and 6th-8th grade.
5th Grade List
Boy on the Wooden Box by Leon Leyson
Counting by 7s by Holly Sloan
Half a Chance by Cynthia Lord
Twerp by Mark Goldblatt
Under the Egg by Laura Marx Fitzgerald
Zero Tolerance by Claudia Mills
Elvis and the Underdogs by Jenny Lee
Mountain Dog by Margarita Engle
Snicker of Magic by Natalie Lloyd
Escape from Mr. Lemoncello's Library by Chris Grabenstein
6th to 8th Grade List
Boy on the Wooden Box by Leon Leyson
Counting by 7s by Holly Sloan
Half a Chance by Cynthia Lord
Twerp by Mark Goldblatt
Under the Egg by Laura Marx Fitzgerald
Zero Tolerance by Claudia Mills
The President Has Been Shot! by James L. Swanson
Prisoner B-3087 by Alan Gratz
Seeing Red by Kathryn Erskine
Shadow by Mark Morpurgo