A number of middle school faculty have been exploring Project Zero visible thinking routines with students, and this week in the library, we've been using the See, Think, Wonder routine with both 5th and 8th grade students, with inspiring results.
Ms. Moss's 8th grade English students will soon read Harper Lee's To Kill a Mockingbird, and as part of their preparation, they are analyzing images from the 1920s and 1930s–photographs related to segregation and Jim Crow laws, rural life in Alabama, the Great Depression, and the Ku Klux Klan.  Each student spends time with a single photograph, using the See, Think, Wonder routine (what do you see? what are your thoughts? what questions do you have?) to analyze the picture and come up with questions about it. Then we move to small group discussions around the major topic areas, and then end with a full class discussion about the state of the United States at the time when Harper Lee was writing the novel.  These are tough conversations about uncomfortable topics. Starting with a single image, and then exploring how their peers' images relate to their own, gives the students an entry point into a complicated period of history.
5th grade students are also using See, Think, Wonder in responding to images of children visiting their parents in prison.  Nora Raleigh Baskin's new novel Ruby on the Outside explores the challenges faced by Ruby, a young girl whose mother is in prison. Ruby loves her mother and relishes the time she is able to spend with her on visits, but also struggles to understand the reasons behind the incarceration and fears the impact of having her classmates know the truth. To introduce students to the situation behind the novel, we look together at several photographs of children visiting their mothers, without telling the students the situation.  Like the characters in the novel, the photographs show connection, sadness, anticipation, and love.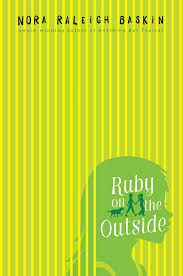 See, Think, Wonder is a wonderful way to give students a chance to view and think critically about what they see, and photographs in particular help students to connect with experiences and perspectives that might be very different from their own.  We look forward to using this routine more in the future!