We are close to the end of the school year, and I've done a terrible job of keeping this site/blog up to date, in part because it has been so incredibly busy in our library all year.  We LOVE our new space and all the incredible things our kids have been doing.  So, a few highlights:
Mad Millions
We finished up Mad Millions this week, with a very close race for top advisory between Ms. Goode and Mrs. Thomas' advisories.  Mrs. Thomas' girls were the final winners, with 182,676 pages, but the biggest story in my mind is that the middle school recorded 1,548,170 pages this school year.  That is a lot of pages!   We are grateful to the kids for continuing to record all year (the reading part comes naturally to them, I think, but recording is less fun!); we loved getting to see what they were reading.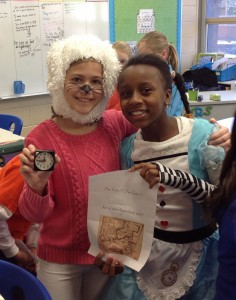 Makerspace
Our renovation included an area devoted to making.  Based on the kids' interests, requests, energy, and ideas (so many ideas!), it quickly became a place to fiddle with simple electronics (LEDs, batteries, small motors, wires, conductive tape, etc.), microprocessors and arduino programming, Littlebits, and even a bit of soldering.  Then we added a sewing machine, and soon we had kids sewing felt creatures and pillows and even a small quilt!  And some kids have started playing with combining the electronics with the sewing: look for interesting stuff along those lines this fall!  Then some kids started playing with wood scraps donated by Mr. Wickham.  Others wanted to work on website development.  Robots, animation, Scratch programming.  The possibilities seem pretty endless!  The space continues to grow, both in the materials being used and the variety of kids coming to work on projects (and the projects themselves).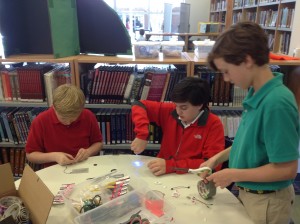 Research
I should ask Mr. Boyd (our resident research specialist!) to write a whole post of his own about all of the exciting things that have happened this year in the realm of research and exploration.  We have had a steady flow of classes all year doing a range of projects, from quick exploration to in-depth drilling.  We love the embedded librarian model, where we get to have classes come and spend at least several days working in the library, often starting with students poking around the general topic area for a day or two until they hit on some detail that interests them, then delving deeper into that aspect of the topic.
Overall, it has been an amazing year!  We are so grateful for our new space and the children who fill it every day!  Looking forward to next year already!