You can now check out selected library titles on your Nook, Sony ereader, or iOS/Android device!!   (We recommend using your iOS or Android device if you have one–the process is faster and easier!)
Check out our Magic Wall of available titles!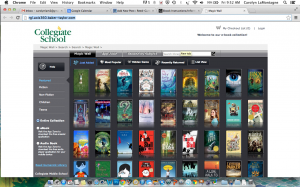 You must have an email account to check out books, so 5th and 6th graders need to work with a parent to set up an account!
See the instructions linked below, and contact Mrs. LaMontagne if you need help navigating your first checkout!  The first time you check out a book electronically, it is a bit complicated, but once your accounts are set up and you know what you are doing, you can have a title in your hand in seconds, with just a few clicks!
Ebooks Instructions and Information

Your Patron ID (Library Card) for Axis360 is
RGLyour_username (ex: RGLjohn_smith, using the username you have at school for your school account)
Your PIN is the 4 digits (day/month) of your birthday (ex: 0104 for Jan. 4).
You will also likely need to set up Axis Reader and Adobe accounts, or a Blio account.  Once you have these accounts set up, it is easy to check out books!  Complete, device-specific instructions are available on the page linked above, but if you have trouble or questions, just let us know!