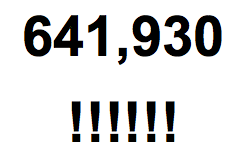 Sometime in mid-October, we were at around 350,000 pages in our Mad Millions challenge, and we asked the Middle School to try to get us to 400,000 by Nov. 1; their reward would be a bit of extra hijinks at assembly that day after what turned out to be a wonderful author visit by Peter Lerangis (author of many books, most recently the Seven Wonders series).
They got us to 400,000.
They got us to 500,000.
Actually, they got us to 641,930 pages!!!
This is a LOT of reading, folks!  We are so excited about our kids' enthusiasm for books (and their patience with the tedious process of recording pages!).  What we hoped for when we started Mad Millions was to have a way to celebrate the passion for reading that we knew existed in the middle school.  What the kids have been doing has far surpassed what we ever could have imagined!  We are truly blown away!